Wesbrook Village Dental Clinic Accepting New Patients
Smiling through every achievement
Campus Dentists is your private clinic in Wesbrook Village located near UBC. We are not affiliated with the campus student dental clinic. We do not employ current students. We charge normal dentist fees as per the current BC dental fee guide. Dr. Alison Fransen and Dr. Siavash Arvan are with the studentcare network, and we accept the UBC student insurance plan. If you are a current UBC student, contact us for more information.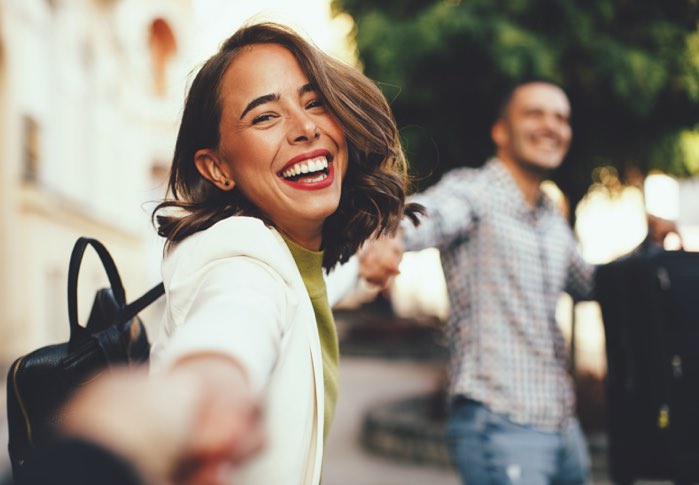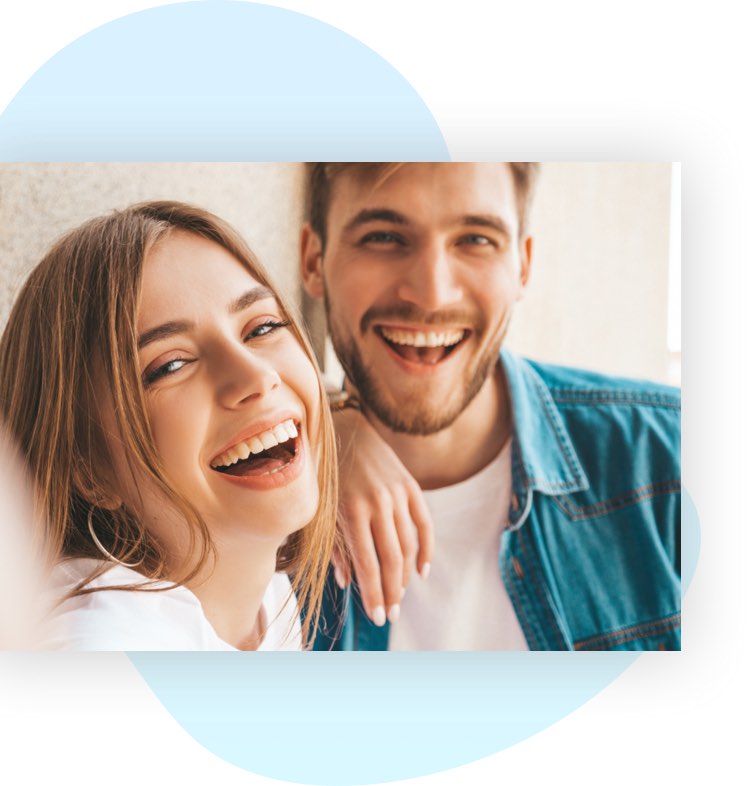 Meet Your Vancouver Dentists At Your Wesbrook Village Dental Clinic
Welcome to Campus Dentists & Chiropractic, your Wesbrook Village dental clinic. Meet our experienced team, learn where to find us, and discover how we can make your smile brighter.
At Campus Dentists, we take your teeth and gums seriously. We believe that good oral health is the key to looking and feeling great. That's why we strive to take your oral health to the next level every time you visit.
When you visit our clinic near the Wesbrook Community Centre, you'll have the chance to experience dental care delivered by the University of British Columbia (UBC) graduates. During your visit, you'll meet with one of our two on-staff dentists: Dr. Alison Fransen & Dr. Siavash Arvan.
If you've already visited our sister clinic, the long-established Wesbrook Village Dental Centre, you may already know our dentists and staff. Most members of our team — including our hygienists and assistants — have worked together for at least five years. That means you can expect to see the same friendly faces each time you visit our clinic. We can't wait to welcome you to our new dental clinic on UBC campus.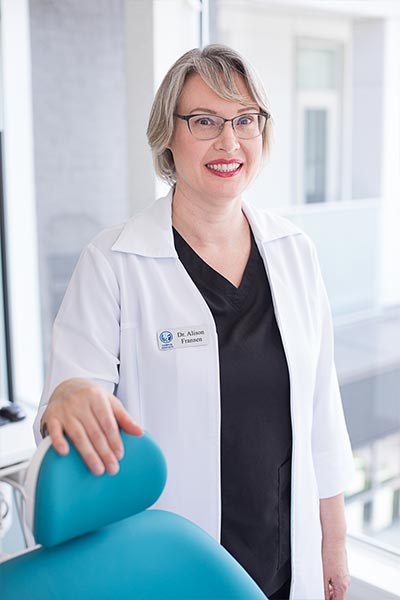 Dr. Alison Fransen
A 1997 graduate of UBC, Dr. Fransen provides general and cosmetic dentistry.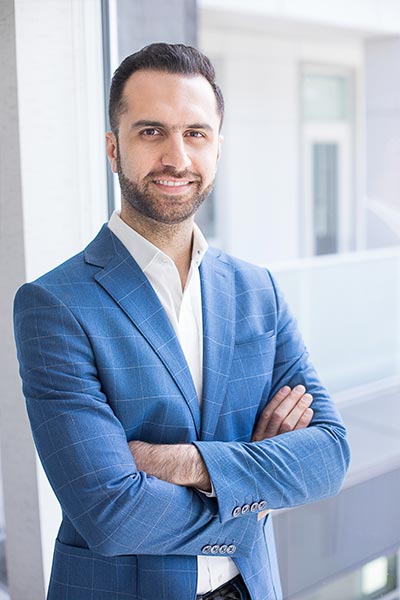 Dr. Siavash Arvan
In addition to general and cosmetic dentistry, Dr. Arvan also provides dental implants.
How Campus Dentists Can Help You
Our experienced team provides general dentistry as well as cosmetic dentistry at your Wesbrook Village dental clinic and much more. Since our clinic has an experienced team and dental equipment, we're proud to offer a full slate of services in house. That means we can be your one-stop shop for all your oral care needs.
No matter which services you need, you can expect our team to provide a patient-led experience. We strive to ask about and address your oral health concerns, and our team aims to show rather than tell. We pride ourselves on educating our patients about each procedure, as we want to make sure you understand our approach every step of the way.
Take a look at the services we offer: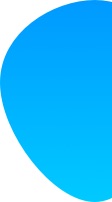 Veneers and Whitening
From porcelain veneers to Pola Whitening, our clinic has just what you need to perfect your pearly whites.

Dental Bridges and Implants
Whether a dental bridge or an implant is right for you, we can make sure your smile is complete. Our team can handle every step of the process in house, thanks to our Cone Beam Computed Tomography (CBCT) machine.

Invisalign
Want to straighten your smile? Campus Dentists is a Gold Level Invisalign provider, which means we have the experience and education to make you look better than ever.

General Dentistry
From basic cleanings and teeth extractions to crowns and root canals, we've got all your general dentistry needs covered. We even offer iTero scans with each patient exam so we can track your oral health over time.

Sedation Dentistry
Does visiting the dentist make you nervous? We understand. Our clinic offers both oral and nitrous oxide sedation so you can relax during your dentist appointment.

Emergency Dentistry
Whether you wake up with a toothache or you lose a filling in the middle of the night, our team can help. Call 604-805-2500 to find out what to do and when you can make an emergency dental appointment.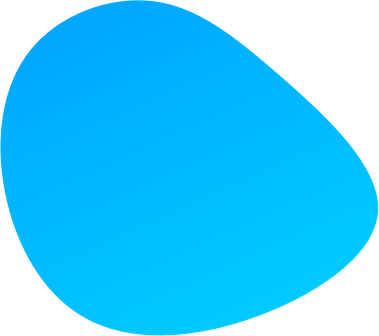 At Campus Dentists, we're committed to making the billing process as painless as possible for our patients. Our clinic is part of the UBC student dental network, so we can bill directly to the UBC insurance network. Have another type of insurance? We can also bill directly to all applicable insurance networks, helping you save time and hassle.
If you're a new patient, you're in luck. Your Wesbrook Village dental clinic is currently accepting new patients, and we're committed to making your relocation as easy as possible. Our office can handle all the paperwork if you're transferring from another 123 Community Dentist Network practice.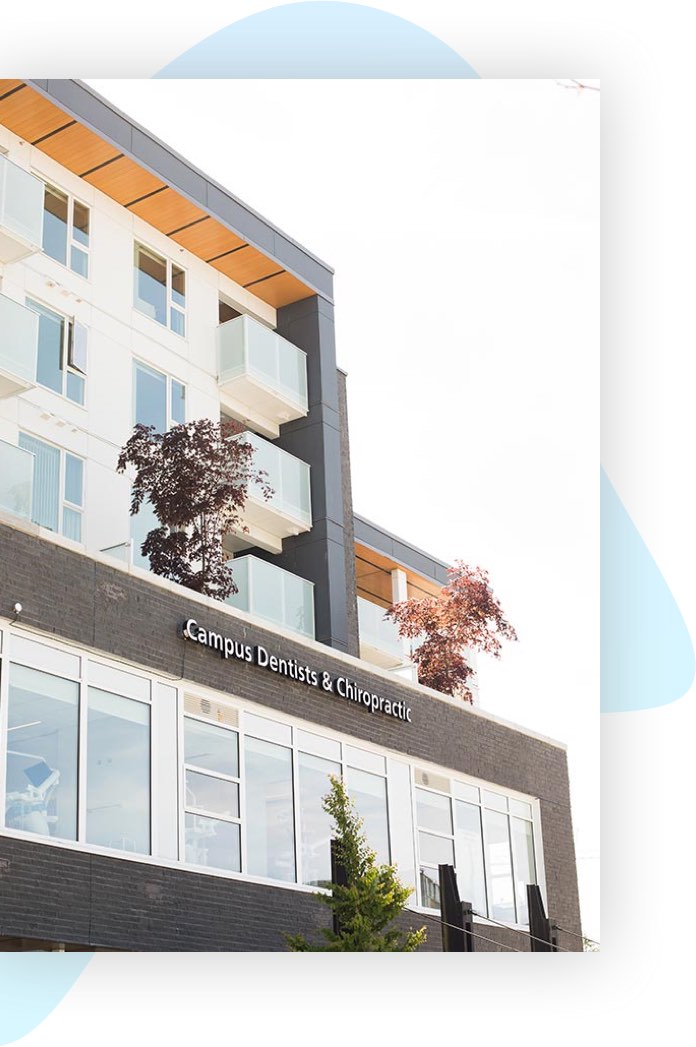 Where to Find Campus Dentists 
The Campus Dentists clinic is easy to find. We're located on the south side of the UBC campus in Wesbrook Village. Our clinic is right across from the Wesbrook Community Centre and seconds from Save-On-Foods and Shoppers Drug Mart. We're also a short drive from campus highlights like Thunderbird Stadium and the UBC Botanical Garden. If you're a UBC student or faculty member, our clinic couldn't be more convenient.
You'll find Campus Dentists on the second floor of the Village Square office building. From the moment you step inside our clinic, we aim to impress. Our newly constructed clinic features a fresh, modern look with plenty of natural light.
We've also designed our clinic with our patients' comfort in mind. We strive to make you feel right at home and provide patients with TV screens and headphones. That means you can get comfortable and enjoy your favourite shows throughout your checkup or procedure at your UBC dental clinic.
Ready to visit our conveniently located dental clinic? Book your first appointment online or call us at (604) 559-5781 today!
Book An Appointment With Your Campus Dentists Today!